TABLE 7.3a: MID 1950S: BV6.11 Subverting the Political System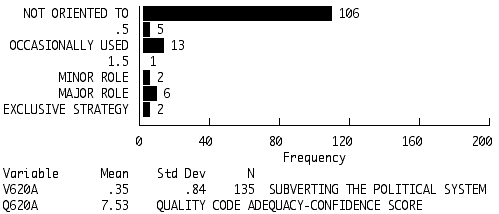 TABLE 7.3b: EARLY 1950S: BV6.11 Subverting the Political System
rupt. However, it may be that a government party demonstrates more diffuse acts of violence in establishing a reign of terror over the population, which in that case is coded under activity variables 6.21 to 6.26.
Operational Definition. The operationalization for BV621 through BV626 parallels that for BV601 through BV605, and the preceding discussion for those variables supplies the context for these codes:
| | |
| --- | --- |
| 0 | Party never or virtually never engages in the activity. Used also if literature does not specifically state that the party does not engage in the activity but discussion of the activity is conspicuous by its absence. |
| 1 | Party occasionally performs the activity but it is not considered to be a common practice of the party. |
| 2 | Party frequently performs the activity which is considered to be common practice for the party. |
Coding Results. As occurred with the direct tactics under "open competition" and "restricting competition," coding of BV621 through BV626 was forced to end prematurely because of lack of resources. The explanation for this occurrence is given in detail under "coding results" for BV601 through BV605. While more than 30 parties were coded for tactics of subversion, the set is too small and too unrepresentative of the sample to permit valid inferences to the universe of parties. Therefore, summary statistics are not reported.3 The variables themselves have been discussed, however, to present the ICPP conceptual framework in its entirety.
Basic Variables 6.31-6.34: Propagandizing Ideas and Programs
The preceding variables in the goal orientation cluster dealt with three different strategies for achieving the goal of placing avowed representatives in government positions as well as the direct tactics for these strategies. Variables 6.31 through 6.34 depart from this pattern. The set refers to a series of party activities intended to spread the message of the party. Specifically, they are
| | |
| --- | --- |
| 6.31 | Operating mass communications media: radio, TV, newspapers |
| 6.32 | Operating party schools (distinguished from general education) |
| 6.33 | Passing resolutions and platforms |
| 6.34 | Publishing position papers |
Because they are party activities, they can be referred to as party "tactics." They are not, however, tactics which pertain directly to any one of the three basic strategies discussed above. Indeed, they may be used to support all these strategies, for a party can propagandize its ideas and programs in the context of open competition in the electoral process, restricting party competition, or subverting the political system. Thus these propagandizing activities are indirect tactics that can be employed within the context of any strategy. The extent to which the empirical probabilities match the conceptual possibilities must be determined through data analysis.
Operational Definition. We again rely on the same three-level measure of the frequency with which the party performs each of the four specific activities that propagandize the party's ideas and programs. A full discussion is contained under the operational definition for BV601 through BV605. The codes, once more, are
| | |
| --- | --- |
| 0 | Party never or virtually never engages in the activity. Used also if literature does not specifically state that the party does not engage in the activity but discussion of the activity is conspicuous by its absence. |
| 1 | Party occasionally performs the activity but it is not considered to be a common practice of the party. |
| 2 | Party frequently performs the activity which is considered to be common practice for the party. |